Last Updated on November 27, 2022
This is a Zosi C225 4K PoE security camera system review video from the Youtube channel "LifeHackster" (the original video link is posted at the end). Also thank LifeHackster reviewed.
The product to review is ZOSI C225.
8 Channel 4K POE Security Camera System - C225
PoE True Plug&Play Installation
4K Super HD HDR
Starlight Night Vision
24/7 Video & Audio Recording
Dual Deterrence Against Intruders
In this review, it show us the details of the product and installation process and gives us a glimpse of the image quality.
Introduction
This is the Zosi 4k NVR PoE camera, and this one has color night vision, human detection, two-way talk, and a siren. And this is the cheapest NVR system that I have reviewed to date. Is this going to be a good option for your home? Let's find out.
What intrigued me and finally got me to check their camera system out is the price and features that you are getting.
We will be reviewing Zosi 4k turret-type cameras that have color night vision with spotlights. And you'll get four of them together, with Zosi 8 channel NVR, with a 2 TB hard drive pre-installed.
So the whole system is the cheapest NVR package that I can find to date. Also, thank you Zosi for sending me this camera system to be reviewed.
Features
Let's check out the features and see what comes in the four-camera kit set it up and install it. And check out its video and audio quality, and see if this pretty affordable NVR system can be a good option for your home or property.
Let's check out its features.
The camera records in 4k quality 3840 by 2160 pixel resolution at 20 frames per second.
It has starlight night vision. And it does have two little spotlights that help for the camera to record in full color at night.
It is weather resistant with an ip66 rating.
It is a siren that can sound a tone or an alarm sound, and or together with its spotlights when it detects humans. And will flash in the daytime or solid light at night.
And this system has AI human detection.
This system also has two-way talk.
Unboxing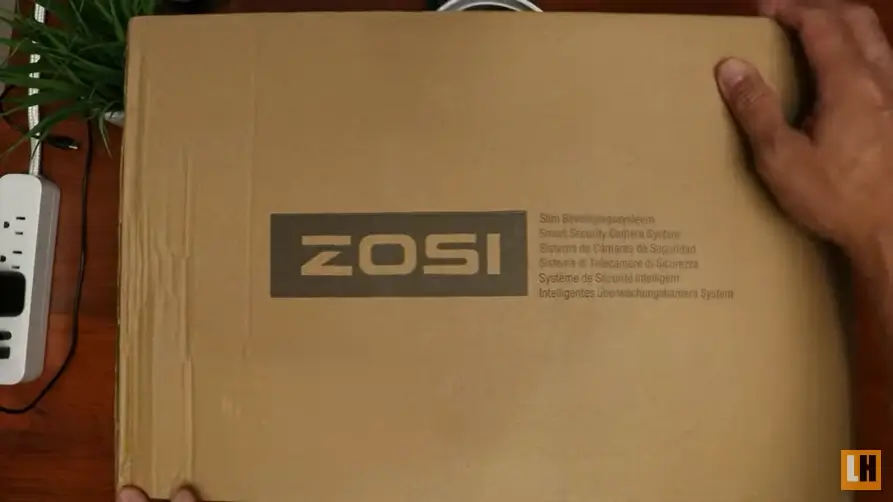 The kit came in a brown box. And there are no features and specs on the box. Inside we have some ceiling labels, and a thank you letter from Zosi.
We have the NVR which has a smaller footprint. We have some status lights in the front, and a USB port.
On the back. We have the audio out, HDMI port, a VGA port, an ethernet port to plug into your router, a couple of USB ports. And this is an eight-channel NVR, and we have eight PoE ports for the cameras. We have the on and off switch, and the power supply port 48 volts.
This NVR comes with a two-terabyte hard drive pre-installed.
Then we have the camera turret type. The camera body itself is made of metal, but the mount housing is plastic, and the base is also plastic.
We have two spot spotlights camera lens infrared led somewhere here, and we have the mic. The mounting bracket is also plastic.
We have the ethernet port to connect to the NVR or router, and a power port if you don't use PoE.
Also after further checking these holes on the sides which can be easily mistaken for speaker holes are not speaker holes even here on the base. The speaker itself is on the back of the main camera body. There is no wiring connection from the camera to this plastic housing or on the base.
What else do we have in the box? We have the mounting templates, and window stickers. We have an HDMI cable, a power supply of 48 volts 2 amps, and we have a mouse. And we have four sets of 60 feet in length ethernet cables, which are cat5es. We have the mounting screws, and plastic anchors, and we have a short ethernet cable and a quick start guide.
Lastly, we have the three other turret cameras to complete the four-camera kit NVR system.
Installation
Time to set this up.
I'll just be hooking up one camera for testing. One thing to note, is these third cameras have a bigger footprint. And the bracket is 5 inches, in diameter comparing it to a four-and-a-quarter-inch standard junction box cover.
Screw in the plastic bracket using the three included screws. And push the camera into the bracket align the slots and turn clockwise to lock it in place.
Connect the ethernet cable to the camera that will also be connected to the NVR on the other end.
Setup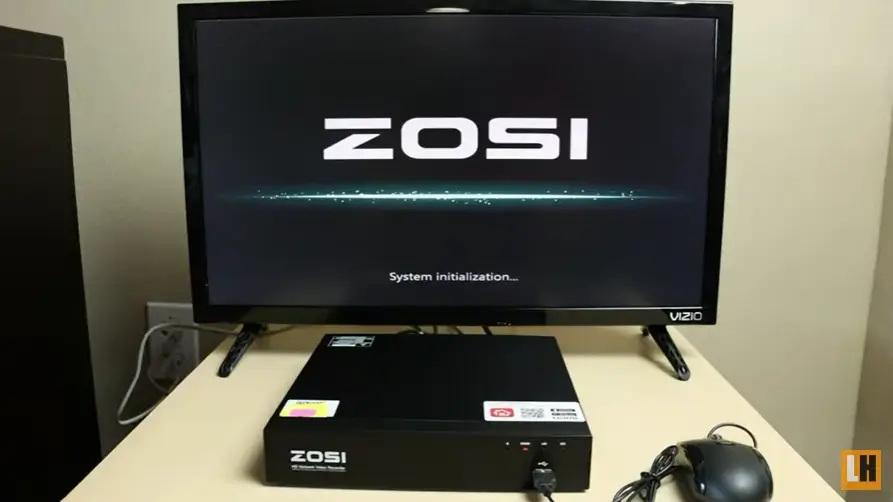 You will need a tv or monitor to set this up. And you don't need a 4k monitor, 720p should work fine.
On the back of the NVR plug in the HDMI cable from the tv, plug in the ethernet cable from your router for you to be able to access the cameras remotely, and use Zosi Smart App. Plug in the camera, and plug in the power to the NVR. And lastly, plug in the mouse.
Turn on the NVR and wait for it to boot up, and it will start to automatically record 24/7. This also applies when you install this horizontally or under the eaves. The mic hole needs to be on top.
For remote viewing, sign up and log into the Zosi Smart App. Click add device and there's no NVR, so I'll choose DVR. Scan the QR code which is on the NVR. Click next and wait until it is connected. Click on channel 1 because I only hooked up one camera. And you will see the live view.
Settings in The APP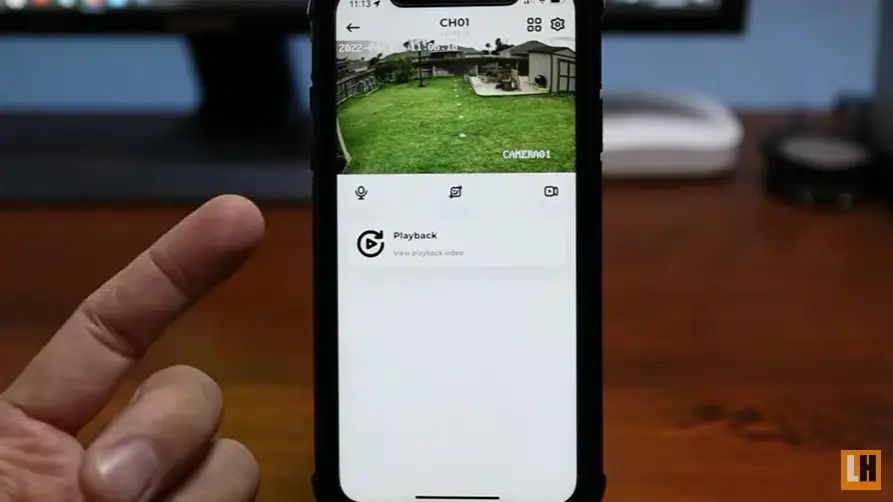 Let's check out the settings in the app. On the main app page, you will see a thumbnail of your camera. Click on it to get to live view. You have to wait for a bit.
Here you can start two-way talk which is half duplex. And also has confusing labeling which will say keep talking. And this should be push and hold to talk.
You can also take a snapshot or record the live view.
Playback and you will see a timeline of the recorded footage. This NVR records 24/7.
Going back to live view if you tap the stream there will be more icons, like pause the live view, listen in and change the streaming quality sd to HD and landscape view.
In the upper right corner, click the gear icon for the settings. Where there is push notification on or off. Alert mode, and you have to select which camera to get to the detection mode which I picked humanoid detection. And this has a push interval where the minimum is 1 minute, so it will only alert you every minute if the motion persists. And you can change it to 5, 10, or 30 minutes if you want.
Then we have sound and light alerts you have to choose which camera again. And there is one key alarm which the camera will continuously alarm. This setting should be in live view
Sound and light alert. And there are four modes that you can choose.
Sound and light when it senses people.
Slight sounded light, is just a tone and the light.
Sound alarm only
tone only
light only
The light will flash in the daytime and solid at night. And there is also a detection mode again, which I only choose humanoid.
We have night vision mode.
Color night vision. The camera spotlights will turn on continuously at night to record in full color.
Black and white night vision is the traditional infrared night vision at night.
Smart night vision which is normally infrared night vision, turns on the spotlight and records in full color when it detects people.
Back to the main app page at the bottom. We have messages where it will show the thumbnail of the detected events. And you can click playback to watch the recordings.
Which does take a while to load up and has a tendency to show the start of the recording for the given day, before going to the recorded event.
Also just a note on the NVR user interface, this is the only place you can set motion zones which during testing it didn't work.
There are also no motion sensitivity settings. In my backyard setup though human detection is pretty spot on and I didn't get any false notifications.
Video Quality Daytime
Now time to do some testing.
So this is the video ed audio quality of zosi 4k IP NVR PoE camera system, and video clarity test. At 10 feet. 15. 20. 25. 30. 35. 40. 45. 50.

Night Time Quality
So this is the video quality of the Zosi 4k camera at night and this is on its colder night vision. So those two spotlights will always go to be on. So this one looks like 10 feet. 15. 20. 25. 30. 35. 40. 45. 50.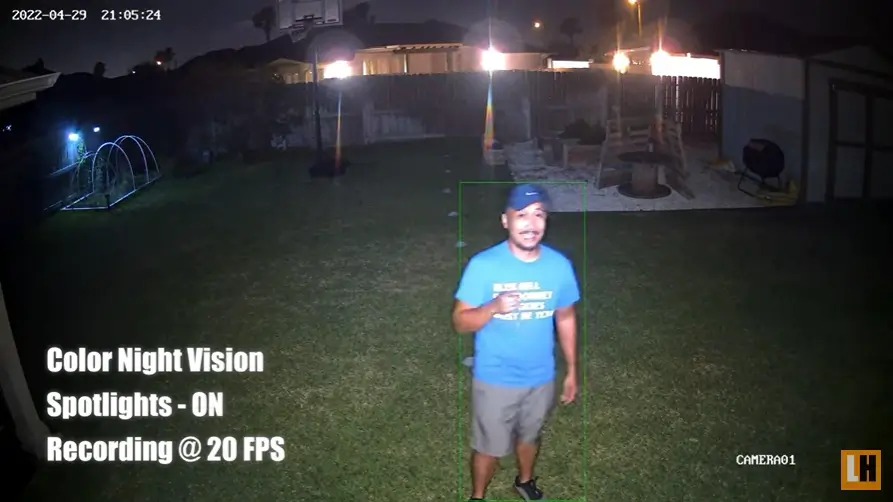 So this is the video quality of the Zosi 4k at night. And this way on its black and white night vision mode and it has four imperative LEDs. So this is what it looks like at 10 feet. 15. 20. 25. 30. 35. 40. 45. 50.

Motion Alert Notification Speed
We are going to test the motion alert notification speed of the Zosi 4k NVR PoE camera system. And I'm on the late connection and it is 12:27. so let's check it out. Also, I've set that whenever it detects a person or humans, it will flash the light will flash. And also set it so that it will have a tone, like an alarm tone.
So let's check it out.
There you go. And that's a pretty quick notification. And when you click and hold. There are no rich notifications, but when you click on them. It should go to live view. I guess you have to click this again.
Then…There you go. Cool. 12:28.
All right. So we are gonna check the cool-off notification of the Zosi. And in the settings, you can the minimum that you can set the interval. and the minimum that you can set is one minute. So it is 12:29. So it's been about probably about a minute. So let's see.
There you go, and pretty quick notifications.
Detection Distance Testing
We are going to test the maximum detection distance and person detection for the Zosi 4k camera system. And I couldn't find on the app or even on the NVR settings itself that you can adjust the sensitivity. But it is pretty decent in detecting. I didn't get any false detection. it always picks up whenever there are human or persons in the view of the camera.
Anyways. Let's check it out.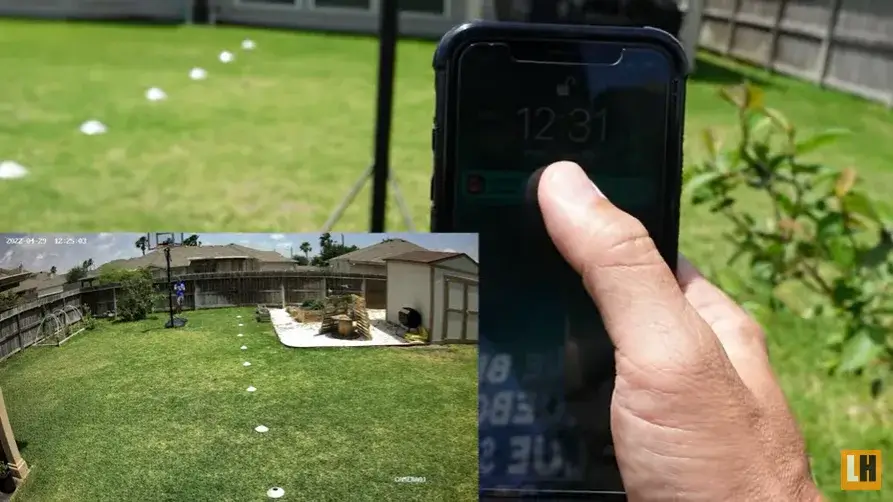 Let's go around 50 feet in my fence line. And you will hear the light and tone when I get detected. Oh, there you go. I got detected at 50 feet. So that's pretty good.
Camera/Siren Audio Quality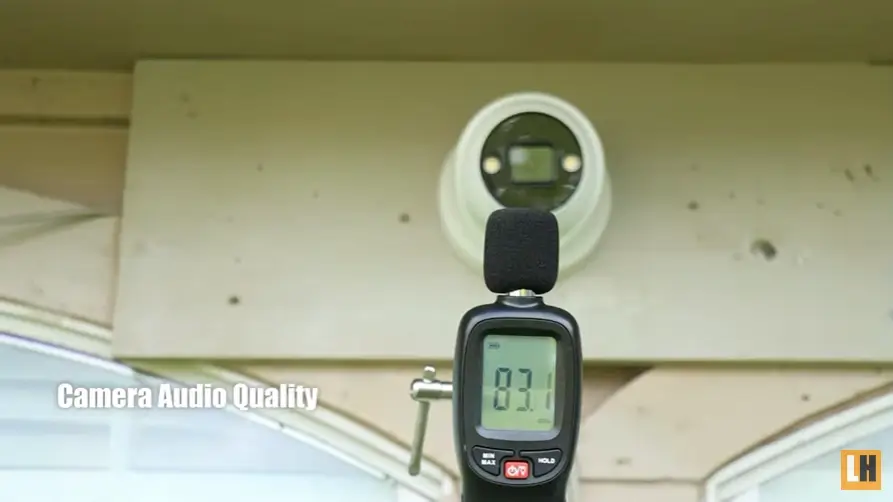 "Audio quality coming out from the Zosi 4K PoE camera".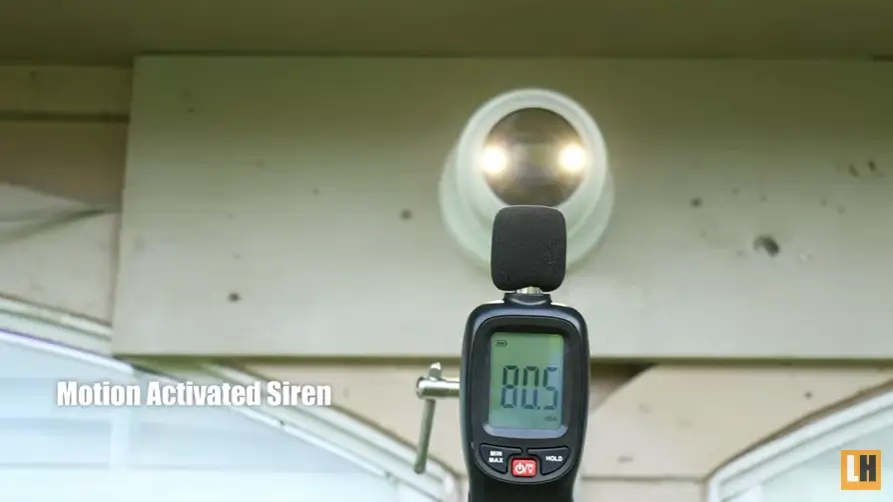 Final Thoughts
So what do you think? The video and audio quality are pretty good. The camera performs pretty well in the alert notification, speed detection testing, and even two-way talk.
I'm not going to give flack to Zosi for the plastic camera mount or no option for MicroSD card recording. They have to cut costs somewhere.
If you're wanting an NVR system that has features like two-way talk, and a siren, and records 24/7 in 4k resolution, this system does well.
The original video
8 Channel 4K POE Security Camera System - C225
PoE True Plug&Play Installation
4K Super HD HDR
Starlight Night Vision
24/7 Video & Audio Recording
Dual Deterrence Against Intruders
ZOSI 4K PoE security camera system, C225 is currently on sale on its official website sale from $399.99 to $1299.99 per unit. And C225 Add-on camera sold for $67.99 per unit.
Subscribe to ZOSI's Youtube channel for more information about ZOSI and its products.
Get your smart home security camera right now!