How can you recognize the telltale signs that your house is marked? Are there signs that your home is being targeted by burglars? And how can you tell if a burglar is watching your house?
Indeed, there are some trails and scents lingering and swirling in the air left by would-be perpetrators (figuratively), and you can sniff out dangers of your house being targeted by potential intruders.
So how can you tell someone is about to burgle or case your house without leaving you wrangling and fuming about the loss you have to sustain?
Signs Someone Is Casing Your House & Your House Is Being Targeted by Burglars.
Being robbed at home is not strange since thieves have been applying this technique for many years. Despite being a common fact, when it comes to oneself we ask many questions, in addition to being a violation of our privacy.
We share some commons burglary warning signs, some unusual signs of houses being cased and targeted by burglars
1. Disappearance of garbage
Thieves are attracted to more things than money and jewelry. People often throw away unwanted papers that contain important information: name, date of birth, place of work, passport number, and other information. They are the references that thieves could use for their purposes. Therefore, it is a rule of thumb to always tear all documents with personal information into small pieces before throwing them away. And if you notice someone looking through your rubbish, be on the lookout: it may not be a simple homeless man looking for food.
2. Disappearance of the dog
Dogs guarding an apartment or house are an obstacle to thieves. Therefore, these can try to get rid of the "watchdog" by releasing it to the outside when the owners are not at home. In a couple of days, the thieves will return, without fear of being bitten. Of course, the missing dog doesn't always indicate the possibility of theft, but you shouldn't completely rule it out.
3. Empty fuel tank
So that the apartment owners do not return before work, thieves can empty the vehicle's gas tank to delay the owner on his way home. In the worst case, you may not even have time to get to the gas station and will therefore be coming home much later. So, if you're sure your fuel tank was full last night and now you have to go back to the gas station, have someone watch your house until you get back.
4. New cleaning man
If you use the services of cleaning companies and you always have the same employee cleaning the house, you should be warned about a possible replacement of the usual worker or the incorporation of a new person. It may be a burglar who wants to inspect the apartment for value. In that case, call the company to find out why they replaced the old employee, to see if they know anything about the new worker.
5. Broken window
Some criminals throw stones at the windows of houses or cars to check if the owners are in the home or if the alarm system is working. If none of the owners or neighbors came out to verify what happened, and the police did not come, then this will help the thieves to calculate the time of the robbery. If you are at home and someone breaks the window, call the police immediately.
6. Problems with light
If you live in a house and have motion-sensing lanterns in your yard or garden, check them immediately in case of malfunction. Light bulbs unscrewed, but not burned out, are a sign that someone wants to enter your home unnoticed.
7. Advertising and Decals
With the help of advertising brochures and simple stickers, thieves label houses and apartments that are easy to rob. Of course, sometimes a steering wheel is just a steering wheel, but just in case it's best to get rid of them right away. If you're going on vacation, ask your neighbors to pick up not only these brochures but your mail as well. A pile of papers in the mailbox is a sure sign that the owners are not home, and it is what gives the green light to thieves.
Therefore, it comes in handy if you have necessary surveillance cameras, like ZOSI C1 around your house, especially around entrances, front door, driveway, garage, and patio.
8. Strange marks
Erase any suspicious marks that appear on the door of your apartment or house, in the garden lights, and generally near the doors or windows. This is another way for criminals to flag houses that are easy to break into or where there are no owners.
9. Calls from unknown numbers
To find out what time the owners are not home, thieves can call the landline and cancel the call. If the children answer the call, the criminals may try to get some information out of them. Explain to children that they can't tell strangers anything, and don't stand with their hands crossed at repeated canceled calls – it's best to go to the police as soon as possible.
10. Forced lock
Lock failures scratch on the door are signs that someone has already tried to break into your house. In this case, do not hesitate, call the police, change the locks for the most reliable ones and think about installing an alarm.
Remember: if you go home and catch the criminals inside, don't try to scare or stop them yourself. Your life is more valuable than any property. Try to get out of the apartment or house unnoticed and call the police.
11. Other Possible Signs
Unfamiliar Vehicles: New Cars or Vehicles on the Street or Neighborhood
Strangers Walk around the Street or Neighborhood
Door-to-door Scams
Mark the House with Flyers or Stickers
Toilet Excuse
Strangers Request for Help with Different Excuses
Strange Markings around the House
Strangers Take Pictures & Walk Away
A Simple Glance & Gut Feeling
Welcome Mat Outside The Side Door was Flipped Upside Down
Golf Ball was Left on The Front Lawn
Strangers Pretending to Be A Handyman or Someone
Front door security cameras could also record evidence of door-to-door scams.
What to do if You Think Your House is a Target
If you find any significant signs that your home is a potential burglary target, follow our steps below.
Suggestions
Take note of any details involving the suspicious person or people around your home; what they look like, vehicle information, etc.
Talk to your neighbors to see if they have noticed any suspicious activity and let them know of your concerns.
Alert local law enforcement of your concerns and provide them with the information that you have gathered so that they are aware and can keep a closer watch on your area.
If you haven't already, this would be a good time to invest in a home security system. You can even grab some inexpensive security cameras online that will do the trick without putting much of a dent in your wallet.
Reinforce entrances and windows with additional locks and security measures.
If you think that burglars are stalking your house, another thing you should do is exercise extreme caution and let them see that you are making it difficult for them. Installing surveillance and alarm cameras is essential in this type of situation.
Home Burglary Statistics
The statistics show alarming results in terms of home burglaries:
On average, there are 2.5 million robberies annually in the United States. This translates to 6,850 cases per day, that is, 10 per minute.
Less than 1 in 5 households has a security system. In addition to this, a home without a security system is 300% more likely to be broken into.
34% of burglars enter through the front door.
23% of burglars gain entrance through a first-floor window.
22% of burglars break into a home through a back door.
9% of burglars enter a home through the garage.
4% of burglars get into a home through an unlocked entrance.
2% of burglars enter somewhere on the second floor.
See more on home burglary facts and statistics
How to Prevent Homes Being Targeted & Burglarized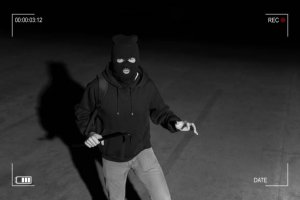 Thanks to a survey on how burglars broken into home conducted by KGW's investigative team on 86 inmates currently serving time for burglary in the Oregon Department of Corrections, we get a better idea how and when burglars break into your house, what they are looking for and what homeowners can do to avoid houses being cased or burglarized.
Here are the breakdowns:
Buy security cameras for entries and make them visible
Make the house, front and backyard visible with good lighting
Trim your bushes and trees regularly
Put bars on your windows and door
Have TV or radio on when leaving home
Know neighbors and alerts police if anything suspicious
Pan Tilt Smart Detection Camera
- ZOSI C296
5MP Super HD
Starlight Color Night Vision
Pan & Tilt
WiFi Connection
Light & Siren Alarm
Upgraded AI-Powered Detection
2-Way Audio
You might be surprised by the revelation of convicted criminals about how they approach the house and strike while it also serves a great reminder of how homeowners can do to avoid being targeted.
Protecting Your Home
The truth is, many people don't consider taking precautions against robbery because they feel as though they don't have anything worth stealing.
However, burglars don't know what is inside your home; they simply seize the opportunity when they realize you've neglected to take adequate safety precautions. Everyone should take some basic steps to protect their homes from burglars.
Consider the following recommended products to help protect your home from break ins:
1. 5MP Security Camera – C296
ZOSI C296 is an intelligent video surveillance camera that has the latest technology to offer you the best specifications.
Pan Tilt IP Security Cameras
- ZOSI C296
5MP Super HD
Starlight Color Night Vision
Pan & Tilt
PoE/WiFi Connection
Light & Siren Alarm
Upgraded AI-Powered Detection
2-Way Audio
This camera incorporates an intelligent sensor for detecting people to prevent the alarm from sounding by the wind or an animal. It also has a 2.4 / 5 GHz Wi-Fi system.
A microphone and a loudspeaker are present in this device so that you can both listen to what potential thieves are saying and be able to talk to them through your mobile phone and warn them to leave your home. For this same purpose, the C296 camera also has a warning light and siren.
Alexa has been one of the revolutions in recent years, that is why ZOSI has thought that linking this device with Alexa will be a wise step. This allows consumers to quickly access security camera images with voice control.
In terms of image quality, this camera is also not far behind since with its superior definition of 5MP it is capable of capturing vivid colors and night vision with an angle of 90 degrees.
2. 3K 5MP WiFi Security Camera System – C308AH
This camera is designed to work both indoors and outdoors made of metal to overcome all types of climates.
5MP WiFi Security Camera System - C308AH
3K Super HD Image Day & Night
Light & Siren Warning to the Unwanted
Wi-Fi HaLow
Work with Alexa
Flexible Storage Options
This camera also has the most advanced technology, including HaLow Wifi technology, a 5 MP camera, night vision, intelligent people detection, light and alarm siren, and 2-way audio.
In addition to all this, this security camera has an ultra-long-range of more than 3000 ft to cover as much ground as possible.
3. 3MP Mesh WiFi Security Camera System – W4 Pro
The W4 Pro security camera has an image quality of 3 MP to achieve HD recording. In addition to this, it is also capable of recording at night thanks to its night vision system that allows it to record clear images at more than 50ft in the dark.
3MP Home Wi-Fi Mesh Security Camera System - W4 PRO
AI Human Detection
Light & Siren Alarm
Mesh Wi-Fi
2 Way Audio
This camera also includes state-of-the-art features such as an intelligent people detection sensor, 2.4 GHz Wi-Fi system, when detecting human presence this camera activates a system of spotlights and alert sirens. Like the other models, it also includes a microphone and a loudspeaker and also offers remote viewing from the mobile phone.
To finish we must mention its installation that will not require the help of any professional thanks to its very simple.
FAQ
Why Would Burglars Choose to Target Your Home?
Although we always think that it could never happen to us that a thief enters our home, it can happen. There are homes that, for them, are more attractive than others. For this reason, it is important to know what thieves are looking for when choosing the next home they will try to enter.
For them, the most important thing is that the house spends as much time as possible alone. Therefore, if this is your case, you should at least have a security system for your home, it will always be worth feeling safe when you are not at home.
What are The Most Common Signs and Symbols in Burglar Codes?
Thieves can mark homes with the following symbols:
A cross to mark a good target, for example, the family is on vacation and can steal without too much trouble.
A diamond indicates an unoccupied room
A triangle points to a single woman
The W shows that the house is free at night.
The D with a dash below shows that the house is free on Sundays.
Circled 7 and 8 show that the house is free in July or August, depending on the number. If both figures appear, it means that the house will be free during the 2 months.
These are just some of them. But the thieves' code is much more extensive. A complete language to express a multitude of situations. To make yourself understood easily… in any language! It is time, therefore, to make it difficult for him. Knowing how to recognize the marks of thieves will help us prevent attempted assault.
How do potential thieves get this information about your home?
The technique most used by most thieves to learn the information necessary to break into a house is observation.
The process that a thief follows before robbing your home is very long and thorough. Thieves want to know your lifestyle, know where you work, how long it takes you to arrive if you go on vacation … In short, they will atone for you outside your home and they will chase you going unnoticed for as long as is necessary for them.
How can you tell if someone is marking your house?
Anything out-of-the-ordinary should tell you if someone is marking your house. It can include strangers walking around the neighborhood suspiciously, or unfamiliar vehicles parked outside a home that doesn't belong to the driver. Some burglars mark a target with stickers or fake flyers. They might knock on the door and find an excuse to interact under the guise of a door-to-door salesperson.
What do burglars use to mark houses?
Burglars can use any marking tool to "paint" a target house. It could be as simple as chalk, a string tied to a tree branch or lamppost, a smear of paint, or blue or white spray paint.
Does leaving a light on at night deter burglars?
Yes, leaving a light on at night may deter burglars. A KGW8 survey revealed that burglaries are usually a crime of opportunity. Keeping the lights on might or might not deter burglars, depending on how they assess the situation. The best way to deter burglars using lights is to mimic the lighting conditions of an occupied house through scheduled smart lighting and choosing to keep the lights off in certain rooms.
What time of night do most burglaries occur?
The FBI says that most burglaries happen between ten in the morning and three in the afternoon, contrary to the assumption that they only happen at night. A KGW8 News survey showed that most burglars prefer breaking into homes between 12:30 PM and 2:30 PM.
What type of houses do burglars target?
The UK's Metropolitan Police Service says burglars look for houses with exploitable features, such as open doors and windows, cracked eaves, loose roof tiles, zero home security systems, and structural vulnerabilities.
On the other hand, Quora member, Memorial for John Arnold, said houses in economically-challenged communities are targets because of increased access. Other potential targets are homes with many hiding places (i.e., trees, sheds, tall bushes). Isolated homes are also more vulnerable to break-ins.
Meanwhile, townhouses, residences in a cul-de-sac, and homes in the middle of a neighborhood block make better targets for burglars.
Where do burglars usually break in?
More than a third (34%) of burglars break in through the front door. 23% break in through first-floor windows, while 22% use the backdoor. About 9% slide under a slightly open garage door, 6% will break in through other unlocked openings, and 4% will pass through the basement. Only 2% will gain access via second-floor windows.
In light of these stats, check out these suggestions as to where to install home security cameras.
Where do robbers look first?
Burglars look at the master bedroom first, checking under the mattress, inside the bedroom closet, and in dresser drawers. Portable safes will be targeted. If the master bedroom is inaccessible, burglars head to the home office or study room before checking the living room and kitchen.
What to do if someone is outside your house at night?
If there is someone outside your house at night, it's best to ascertain the situation by listening more intently for unusual sounds or by watching on a security camera. Do not attempt to confront them. Stay calm and assess your options about the possibility of escape, or hide in a safe place and lock the door behind you. Keep a phone on you.
Don't make any unnecessary noise and call the police. Speak as quietly as possible while supplying the police with all the required information. Remember to follow whatever instructions the police provide. Take note of all observations because they can be handy in an official police investigation.
A home security camera that features a two-way talk could also help deter loiterers, alongside a siren to scare intruders or burglars away.
Conclusion
As you have already seen, thieves always find a way to get away with breaking into a house. But here we are to make things more difficult for them.
We hope that after reading this article you have understood the need to protect your home with a security system to be able to leave your house with the peace of mind of knowing that when you return you will not get any unpleasant surprises.